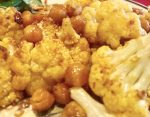 I love this "Spiced Up Cauliflower" recipe! I make it at least every other week, and sometimes weekly! I adapted the recipe from Meghan Telpner. It's definitely a different spin on how you might normally enjoy cauliflower! I've never been a Doritos fan, but the spice combination, especially when you include the nutritional yeast, tastes like the seasoning on a Doritos chip! It's spicy (but now too hot) and cheesy! It's such a great combo. And to pack even more nutritional punch into the recipe, I add chickpeas or cannelini or navy beans. It adds protein, healthy fat and more fibre. You've got to try this! I know you'll love it too!
Ingredients
1

head of cauliflower, cut into small florets

1/2

cup

avocado oil (or olive oil)

1/4

cup

nutritional yeast

1

tsp

chili powder

3/4

tsp

sea salt

1/2

tsp

smoked paprika

1/2

tsp

garlic powder

1/2

tsp

onion powder

1/4

tsp

turmeric

1

can

organic chickpeas, cannellini beans or navy beans

rinsed and drained
Instructions
Line a baking tray with parchment paper and set aside.

In a small bowl, combine avocado oil with all the spices and nutritional yeast, and whisk. 

Put the cauliflower, and chickpeas (if using), into a large bowl and pour the spice mix/oil over top, blending until all cauliflower is coated. 

Bake at 375F for 15 mins.  Toss and cook for another 10 to 15 mins.