Discover the mindset that makes change really happen! Experience the small steps, that will become second nature, and remarkably beneficial to your life. The smallest things can have the biggest impact!
Learn practical tips, recipes, healthy ingredients, and food demonstrations. I will help you to uncover the piece that's really missing. That piece is the mindset to make changes really happen!
Making changes is about the food that's on your plate, it is about keeping active, it is about becoming more mindful. It's also about expanding the vision that you really want for your life.
What do you really want?
Rather than feeling deprived of your food choices, you will feel empowered! I help you realize that you are never too busy to fit mindfulness or meditation into your life. Discover how these seemingly small steps, that will become second nature, are so remarkably beneficial to your life. The smallest things can have the biggest impact!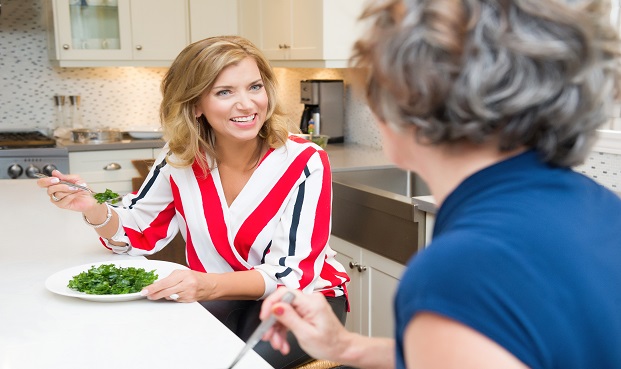 Keep in mind that everything is a process, a journey that we go through in our lives. I have experienced many of the journeys that you have. Just know that with the right coaching and guidance, you can become the hero in your own journey and progress to where you want to
However you decide to approach this journey, you owe it to yourself, and those around you, to begin this process!
Here is what people are saying Karen's workshops:
Karen Porter was kind enough to come into my school to share her knowledge about healthy food choices, "Return to Food".  Both staff and students learned about the importance of food in its natural state.  Karen educated us about food and the food industry while creating nutritious and delicious food.  Karen engaged the students in interactive food prep and rich discussion about healthy food choices. The participants walked away with happy bellies, more knowledge about food, and a better appreciation for healthy eating.  The students have asked to have the interactive cooking classes again for the next school year.  Thank you Karen, for sharing your passion.  Milliken Mills hope to see you again next year.
We loved Karen's workshops, and learned so much in such a short amount of time.  Karen custom delivered exactly what my daughter and I needed for re-booting a healthy approach to eating and meal prep.  We needed simple and vitality-packed recipes, along with LOTS of motivation.  Karen took careful consideration of our specific health needs and sensitivities, and made this a truly enriching experience. Just today, my daughter was saying that she was practicing Karen's mindful eating teachings  –  she was able to re-direct herself to a healthy choice for lunch.  I have made similar changes in my mindset and also daily habits and routines, in the interest of radiant health.  Thank you, Karen!  You are doing life-changing work, and it is clear that you pour your heart and soul into what you do.  We are grateful.
Karen Day & Anna Voskuil