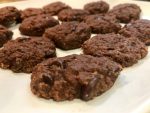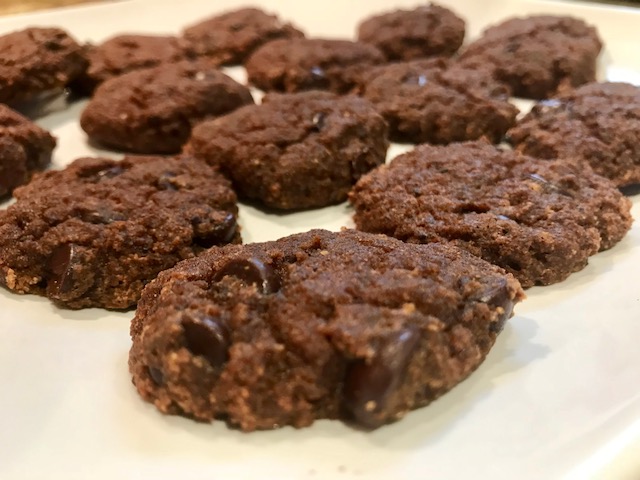 It was a weekend that I'd be seeing both of my (adult!) children. I went into a bit of a healthy baking frenzy! I know they snack (don't we all?!), but my preference would be for it to be healthier and not contain refined sugar, gluten or dairy. This recipe originated from Joyous Health and it's delicious! It's made with awesome raw ingredients like raw cacao powder and coconut flour (which is really nice if you haven't used it before). Some people try to stay away from grains, so if that's you, this recipe is the one! Enjoy these cookies and you'll be getting a boost of magnesium, potassium, fiber, iron, antioxidants, healthy fat, and so much more! Of course be mindful when you're eating them --> one cookie goes a long way!
Ingredients
1/2

cup

coconut flour

1/3

cup

raw cacao powder

1/4

cup

coconut sugar

1

tsp

baking powder

2

eggs

1

cup

almond milk (or hemp milk or water)

1

tbsp

pure maple syrup

1

tsp

pure vanilla extract

1/4

cup

coconut oil, melted & then slightly cooled

1/2

cup

dark chocolate chips or cacao nibs
Instructions
Preheat oven to 350F. Line a baking sheet with parchment paper. In a large bowl place coconut flour, cacao powder, coconut sugar, and baking powder, and whisk it. In a medium bowl, lightly beat the eggs, then add the water, maple syrup, vanilla, and coconut oil until well combined. Add the wet ingredients into the dry ingredients. Fold in the chocolate chips (or cacao nibs). Roll into 1" balls and arrange 1/2" apart on the tray. Flatten them slightly.

Bake for 12 mins, or until the tops are dry. Cool on the cookie tray for 10 mins, then transfer to a rack to cool completely. Enjoy!