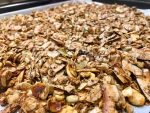 This came about because I wanted some healthy granola and I loved the taste of toasted coconut! So I put them together, loaded it up with nuts and seeds, lightly sweetened it with raw honey and seasoned with vanilla and cinnamon. What's there not to love?! You get a boost of healthy fat, omega 3, fiber, and more!
Ingredients
2 1/2

cups

organic oatmeal

2

cups

raw unsweetened coconut strips

1/4

cup

pumpkin seeds

1/4

cup

sunflower seeds

1/2

cup

walnuts

3

tbsp

chia seeds

1/2

tsp

himalayan sea salt

1/2

cup

raw unpasteurized honey

1/3

cup

coconut oil

2

tsp

cinnamon

1

tsp

pure vanilla extract
Instructions
Preheat oven to 325f. Combine the oatmeal, coconut strips, seeds, nuts, and sea salt and set aside.  Melt the coconut oil and honey in a double broiler.  Add cinnamon and vanilla extract.  Pour the liquid coconut mixture over the dry mixture and combine.

Spread the mixture out over a parchment lined baking sheet in a thin layer (approx. 1/2").  Bake for 12 mins.  Remove from the oven and lightly toss (flip over) the granola in sections to cook the other side.  Bake for another 12 mins.  

Allow it to cool. This will make the mixture stay together. Break it into clusters. Enjoy it as is for a snack, or add it to hot oatmeal or yogurt!