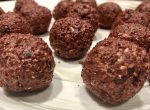 Adapted from a Running Room Magazine, these Chocolate Raspberry balls are delightful! Made with whole food ingredients and vegan protein powder to give you sustained energy. It has the tart flavour of the raspberry, with the satisfying and sweet flavour of dark chocolate and dates. With healthy fat, protein, and fibre, as well as delicious taste... it's a WIN WIN!
Ingredients
10

medjool dates

1/2

cup

raw nuts (any combination - I used 1/4 cup cashew & 1/4 cup almonds)

1/2

cup

large flake oats

1/4

cup

cacao powder

1/4

cup

cacao nibs or dark chocolate chips

1

cup

frozen raspberries

1/2

scoop

vegan protein powder (eg. Genuine Health, Sun Warrior)

1/2

tsp

pure vanilla extract

pinch

salt
Instructions
Add all the ingredients to a food processor. Blend until all ingredients are mixed and you can form into a 1 inch ball. Wet hands if needed. Freeze for 15 mins. Can be eaten out of the freezer or from the fridge.

If preferred, you can also make this recipe without nuts. I adjusted the dry ingredients by putting in 3/4 cup oats and 1 scoop of vegan protein.