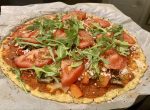 I saw a pizza commercial on TV and immediately felt like having pizza for dinner. I made a cauliflower crust pizza which was really yummy! Then today I decided to make pizza with a different crust. (You can tell I love pizza and I haven't had it in a while!) While it's not made with cauliflower, it's grain-free and the crust is really similar to regular crust. You're gonna love this! No knife and fork required. This recipe is adapted from Joyous Health
Ingredients
1

cup

goat cheddar cheese, shredded

1 3/4

cup

almond flour

4

tbsp

coconut flour (or 1/2 cup chickpea flour)

4

tbsp

ground flax seed

1 1/2

tsp

oregano

1 1/2

tsp

basil

1

clove, large minced

1

dash

sea salt

3

eggs, large

4

tbsp

olive oil

1/2

cup

water
Instructions
Preheat oven to 350F. Put parchment paper on a cookie/pizza tray.

In a food processor, process goat cheese until fine. Then add almond flour, coconut flour, ground flax, garlic, oregano, basil and salt. Blend, then remove blade, and place mixture in a large bowl.

Add eggs, olive oil and water to the mixture and blend.

Place mixture on tray and begin to spread out onto the tray with either a spatula or piece of parchment paper between your hand and the mixture. It will be sticky. Once flattened and spread out, bake for 20 minutes. Remove from oven and add pizza sauce or pesto, followed by desired toppings and bake for another 10 minutes. Broil for another 5 if desired.