**New!** Your Most Radiant Life Day Retreat!
Are you a busy entrepreneur who wants to succeed at your business and has trouble fitting in time for yourself?  You are your business's single most important asset, so it's imperative that you take time for you!  Perhaps you know you want to make changes.  You'd like to go from just getting through your day, to feeling like you're on fire and able to achieve everything you want in your business and your life!  You want more energy and focus!  Perhaps you know what you should be eating, and the activity you should be doing, but you're not doing it. Whether it's emotional eating, limiting beliefs, or something else that derails you, you'll get tips on how to help make healthy changes easier!
Your Most Radiant Life – Day Retreat will cover all of that! Here's what you'll get –> Workshops on intention setting, why it's necessary to make changes and how to make it easier, creating a self-love diet, and tips to managing stress.  We'll do light yoga, a couple meditations, and some interactive work.  A morning snack will be provided.  There will be food demonstrations and lunch will feature a delicious and nutritious plant based soup, salad, entree, and dessert.  Ingredients are organic and local (as much as possible), as well as gluten, dairy, and refined sugar free!  This is the reset you've been looking for!
Friday, Jan 17th   9:30am – 3:30pm
1200 The Esplanade North, Pickering, ON
Buy your ticket before Jan 1st, for only $149!! (Regular price $179). In addition to everything already mentioned, you'll also receive recipes, worksheets, and a swag bag!!   Click below, and email karen@karenporter or go to the contact page and let me know you want to attend!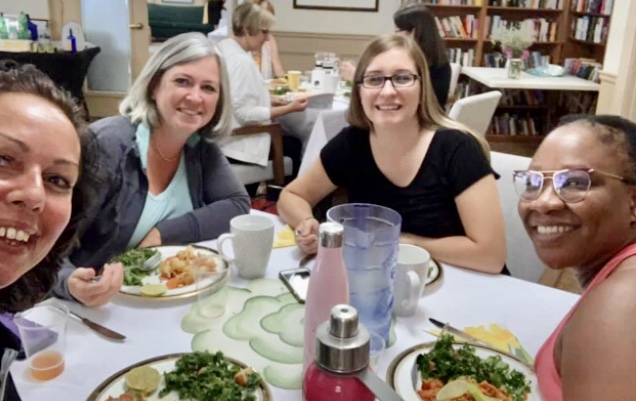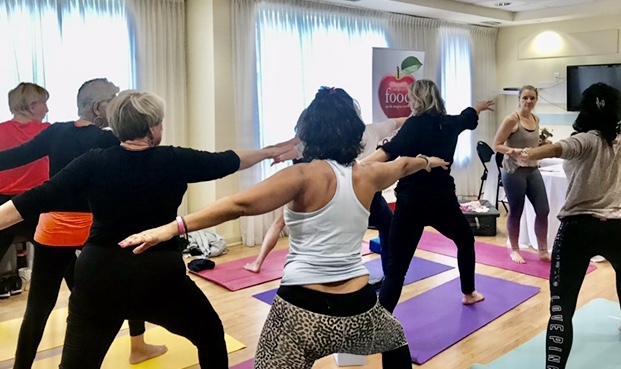 Your Most Radiant Life 3 Day Retreat!
Imagine a weekend where you can get a way from it all, one that's entirely dedicated to YOU – body, mind and soul!  This weekend will be one of rejuvenation and inspiration!  It will be a soul-sister getaway where you will be with like-minded women who want to learn, share and enjoy along with you!  They want to regain their energy, cope better with the stress of everyday life, and take their health to the next level!
WHAT DO YOU WANT TO SAY YES TO?  …
YES, I want more energy!
YES, I want to tame my sugar cravings!
YES, I want help getting out of old eating patterns that don't serve me!
YES, I want to manage stress better, and bring more happiness and ease into my life!
It's time to plan this weekend for you!  This is the reset you're looking for.  It will help put you in the mindset to be your healthiest, and give you the tools to succeed!    Friday, Feb 7 – Sunday, Feb 9
–>**** EARLY BIRD PRICING $549 – held open until Jan 24, 2019 ***
–>Regular pricing $599 per person after Jan 24th, so don't delay!
–>INCLUDES – 2 nights double accommodation at a lovely Haliburton cottage 2 hours north of Toronto, delectable and nutritious organic plant-based meals (you don't need to be vegetarian to enjoy this!), delicious cooking classes and demos, yoga, mindfulness & meditation set peacefully overlooking the lake, hike in Haliburton's beautiful Sculpture Forest and at Skyline Park lookout, daily workshops to give you the tools to succeed, and free time to relax and enjoy!  Sauna and hot tub on site, and option to add on a massage!  Then you'll leave with all the delicious healthy recipes, and notes to help you live your most radiant life!!   This is a small intimate group.  Space is limited and will go fast, so book now!
**New** – VIP Day – Option to add one more night & day to relax PLUS 1 hr Thai Massage and 1 1/2 hr Private Nutritional Consultation &  Plan with Karen Porter, taking your getaway to Monday, Feb 10.  Add only $200 and everything is included!
* Installment Plans Available *
For more information contact Karen Porter:
karen@karenporter.ca
(416) 414-5356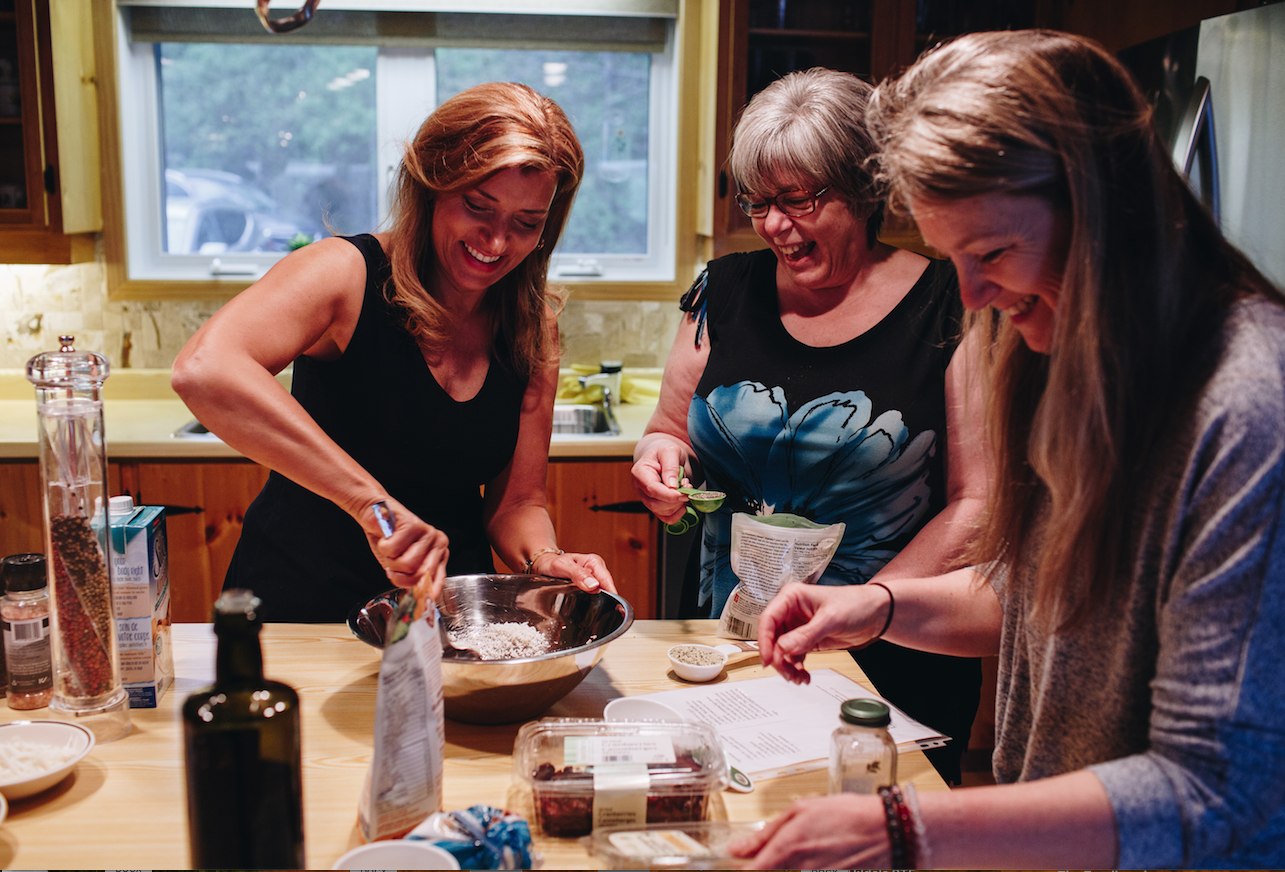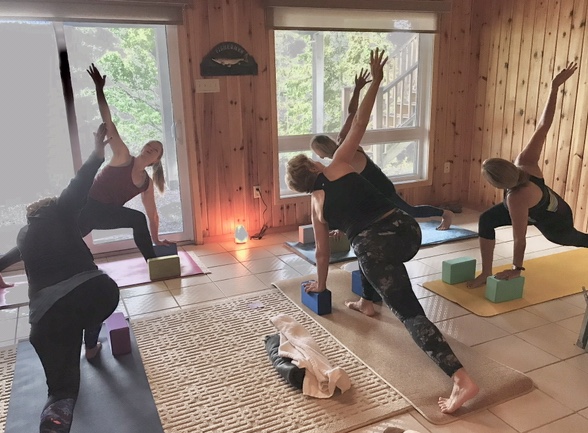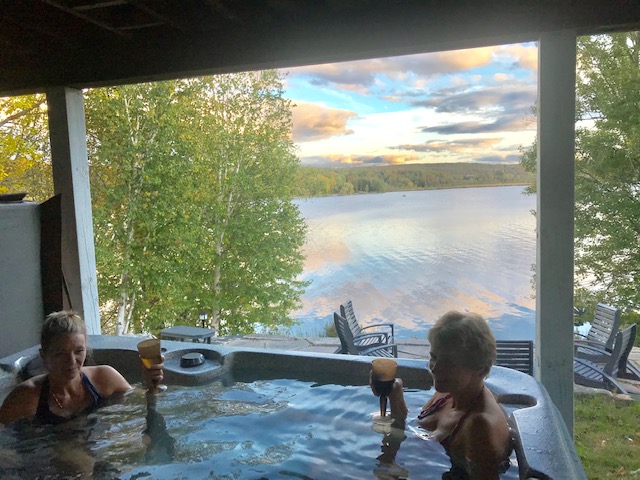 I was honoured and privileged to spend my time at "Your Most Radiant Life Retreat" hosted by Karen Porter. My main goal for the weekend was to learn more about plant based foods and bringing them into my life. Wow my eyes have been opened to so many great ideas, approaches and solutions on how to prepare and incorporate healthy eating into my life easily and excitingly. The food was amazing! So much variety from all the different courses and even snacks. I have a sweet tooth and thought it would be difficult to cut out refined sugars in my life. Thanks Karen for sharing with us your various recipes and showing me what I can do with honey, maple syrup and more. I'm in love with your protein packed, refreshing key lime pie. Easy peezy with ingredients I already have in my cupboard. Above and beyond the food aspect of the retreat was the self love, health and fitness that Karen intertwined during the weekend. It was sooooo beautiful to do morning yoga looking over the tranquil lake setting. For those who are new to meditation Karen provided many tips and strategies to help find our inner peace and to help develop the skills that allow us to bring the practice of meditation into our lives. The workshops on mindfulness and self love were great in reminding the group that we are all awesome women and need to stop and remember daily that we are amazing!!! What a gift it was for me to not only spend time with Karen but to also meet some wonderful women! The intimate group was perfect for us to feel comfortable if we chose to share our life journeys. This sharing allowed us to be open to support, encouragement and acknowledgement that we can do this!! What a great experience and getaway! Thanks again for all the amazing learning and joining me on my journey to the best me!!! I deserve it!!
6 Week Private Coaching Available
This includes:
Initial Consultation (90 mins)
Grocery Shopping Together (75 mins)
2 Cooking Classes (90 mins each)
2 Nutritional Follow Ups (75 mins each)
Package Pricing –> $799
4 Week Return to Food
Workshop & Cooking Class - $250
Week 1 
*Delicious smoothies & snacks
-What the standard way of eating is doing to us and an overview of the Philosophical Approach
-The Mindset
-The Heartset
Week 2 
*Soup & salads
-The universal recipe for healing
-Weight loss, disease reversal & energy hacking
Week 3
*Entrees
-The path to holistic living
-Listening to your body
Week 4 
*Desserts and Breakfast
-The Holistic kitchen
***NEW – IF YOU CAN'T COMMIT TO ALL 4 CLASSES, YOU CAN REGISTER FOR 2 ($150) OR 3 CLASSES ($200), YOU CHOOSE WHICH ONES WORK FOR YOU!***