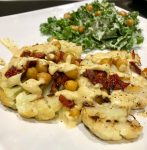 Ingredients
2 to 3

tbsp

olive oil, plus dash of salt & pepper

1

large

head of cauliflower, or 2 small ones

1/4

cup

tahini

1

large

garlic clove

1/2

cup

fresh lemon juice

1/4

cup

nutritional yeast

2

tbsp

olive oil

3

tbsp

water

1/2

tsp

sea salt

1

tbsp

olive oil

1/2

cup

onion, diced

14

oz

can organic chickpeas

3/4

cup

sun-dried tomatoes
Instructions
Preheat oven to 350F. Clean and remove the leaves from the cauliflower and cut the bottom so it will sit flat. Slice the cauliflower vertically into 3/4 inch slices. Brush both sides of the slices with olive oil, salt and pepper. In a cast iron grill pan cook for 5-8 minutes on each side until it starts to brown slightly. (You could also use a George Foreman Grill or something similar). Put the cast iron pan into the oven for 30 minutes, covered. (Or transfer from grill onto a baking sheet and into the oven).

While that is cooking, prepare the sauce. Combine tahini, garlic, lemon juice, nutritional yeast, olive oil, water, and salt in a food processor or high speed blender until smooth.


Next, in a medium sized pan, heat olive oil on medium. Add diced onion and saute 5 minutes. Add the chickpeas and sun-dried tomatoes and saute for 10 minutes.


Remove the cauliflower steaks from the oven. Top each slice with the chickpea and sun-dried tomato mixture. Drizzle with the tahini sauce. Enjoy!