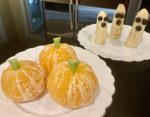 These healthy snacks are so cute! They can't help but have you smiling and take just moments to make!
Ingredients
6

clementines, peeled

6

kale stem pieces or celery stalk pieces

3

bananas, peeled

18

dark chocolate chips
Instructions
With peeled clementines, use a kale or celery piece to form the stem of the pumpkin.

With peeled banana, place chocolate chips for the eyes and mouth.