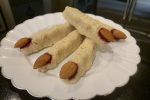 I used to make these shortbread cookies when my kids were young. Except back then, I used refined white sugar, refined white flour and butter. Now, I've substituted with healthier ingredients!
Ingredients
2

cups

almond flour

1/3

cup

coconut sugar or Lakanto sweetener (monk fruit)

1/4

cup

coconut oil, melted

2

tbsp

water

1/4

tsp

sea salt

14

almonds

small amount of strawberry jam or a blend of 3 strawberries, 1 beet slice and 1 tbsp coconut oil
Instructions
Preheat oven to 350F.

In a large bowl, combine almond flour, sweetener and coconut oil. Using hands, form into tubes to represent fingers. Pinch twice above and below knuckle. Using a bread knife, and using your own fingers as a guide, cut cracks on the knuckle and above. Place almond on the end representing the fingernail.

Bake for 10 to 12 minutes. Once cool, remove the almonds and put a bit of jam (or strawberry, beet, coconut oil blend) on the fingernail area. Replace the almond allowing the red (blood) to squish out around the nail.