Try This Amazingly Delicious Kale Salad Recipe
She Hated Kale Until She Had This Salad
Struggling with kale?  Meet the salad that turned a kale hater into a fan!
From Hating to Loving Kale
The Recipe That Changed My Mind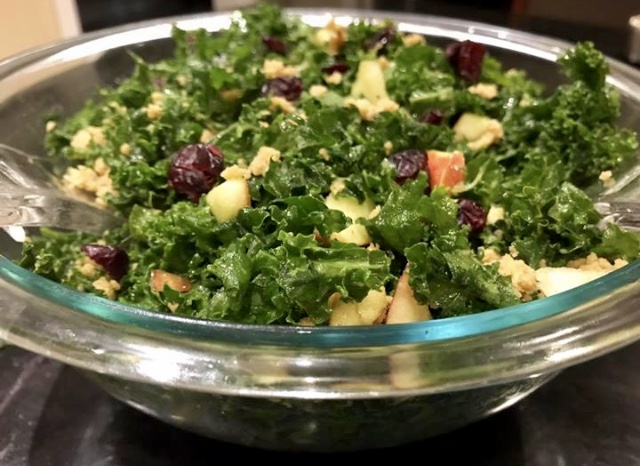 I have never liked Kale.  It was something you put under or beside your food as a garnish.
I found it bitter and tough, not something I enjoyed despite many friends trying to convince me that kale chips were the best!  Nope, not for me.  Bleck is my official description. 
So when I joined my friend at Karen's "Return to Food Experience!" I was less than enthused that the salad part of the meal was made with Kale as the base ingredient.  I love salads, but kale …
But I was sure the evening would be lovely, meeting a great group of ladies and enjoying a laugh, I could live through kale for one night.
It was a great event.  Karen showed up ingredients I would never have put together.  We all dug into the prep together, going through the recipe ingredients.  Seeing some old friends, something used in new ways, and some surprises.  Vegetables, fruits, nuts, and an array of herbs and spices combined with laughter and fun made friends of us all in short order.
Then Karen called us together to discuss the important preparations for the evening's salad – the dreaded kale.
"Does everyone know how to massage their kale?"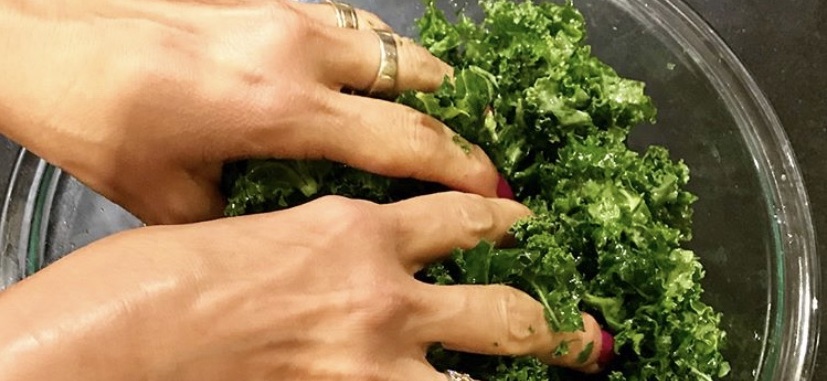 Do you want a printable copy of this recipe?
Huh?  Massage my kale?  Does it have a bad back?
I know how to push it around my plate so I can eat very little of it lol … Does that count?
Turns out it doesn't count.  Karen explained that if you have been eating tough, bitter kale, you have missed a step and forgotten to give your kale some love.
Step 1 – Pull the kale leaf away from the stem

Step 2 – Soak kale in a sink or bowl of clean water

Step 3 – Cut into long thin strips 

Step 4 – Add a splash of olive oil and a dash of salt

Step 5 – With clean hands massage the kale firmly.  
This breaks down some of the fibres that can make Kale seem tough and makes it tender and enjoyable to chew.
We then moved on to the dressing, which had one of my favourite spices in it ~ cinnamon.  I love cinnamon but hadn't ever put it into a dressing. It smelled heavenly.  I thought if anything could make kale taste good, that dressing might do it.

Pomegranate Kale Salad

With Sweet Vinaigrette & Pecan Parmesan

Adapted from Oh She Grows
Ingredients:
1/2 cup pecans, toasted
2 tsp nutritional yeast
1/2 sea salt
Directions:
Bake the pecans for 8 mins at 300F until they are lightly brown. Set aside to cool. This part can be done in advance if you like.
In a mini food processor, combine the toasted pecans, nutritional yeast, and salt until crumbly. Or chop & combine ~ if you chop by hand, you will want to add the tsp of olive oil.
Ingredients:
3 tbsp apple cider vinegar
2 tbsp fresh lemon juice
2 tbsp pure maple syrup
½ tsp ground cinnamon
¼ tsp sea salt
1 tbsp extra virgin olive oil
2 tbsp unsweetened apple sauce
½ tsp minced fresh peeled ginger
Directions:
To make the dressing, whisk together everything listed.
Ingredients:
1 bunch kale, destemmed, cut chiffonade (bunch it up and cut into narrow strips), and massage.
1 apple, cored and chopped
1/4 cup dried cranberries
1/2 cup pomegranate arils (seeds from about 1/2 a pomegranate)
Directions:
To put the salad together, place the kale in a large bowl, and add the dressing.
Massage the kale (yes, this is the second time; it really likes massages!)
Add the apple, cranberries, and pomegranate arils and toss again.
Finally, toss with the dressing and add toasted pecans.
Then serve and enjoy!
Karen Shows You How To Massage Your Kale!
Do you want a printable copy of this recipe?
The salad had a number of ingredients, but the two that knocked it out of the park for me were the cinnamon and pomegranate.  
To my amazement and enjoyment, the salad was delicious.  No meat, no eggs, and no cheese, yet felt filling and satisfying.
I enjoyed it so much, I bought some kale (voluntarily and on purpose!) and tried it again myself.  Success – now I have kale growing in my garden.   Karen, you work miracles!
Shelly Patrick, Former Kale Hater
About Karen
Holistic Nutritionist & Wellness Coach
Hi, I'm Karen Porter and I'm passionate about helping women who are often overwhelmed, discouraged, and have lost their youthful energy, to live radiantly, with the vitality, mental focus, and happiness they deserve!
I know how it feels.
For years I dealt with weight struggles, IBS, anxiety, and severe bouts of depression. I remember the days when I couldn't get out of bed, disabled by depression and anxiety to the point when I was in danger of harming myself. Eventually, I learned that things could be different and that I could make the changes that would affect not only my physical health but my mental health as well. Food, mindset, activity, and stress management played a huge role. It took me a lot of time, money, and energy to figure this all out. But it doesn't have to be that way.
That's why I'm so passionate about helping women to get the life that they desire now.
I offer programs, retreats, work privately, and offer workshops for women who want to feel their absolute best, such as the "Live, Feeling Radiant Workshop". I've been hosting Cooking Workshops and my signature "Live Your Most Radiant Life Retreat" for a number of years after earning my designation in the holistic nutrition field, as well as, studying with a chef. I've been trained in mindfulness coaching & counselling, and cognitive behavioral therapy. 
"We needed simple and vitality-packed recipes, along with LOTS of motivation.  Karen provided just that and made this a truly enriching experience. Just today, my daughter was saying that she was practicing Karen's mindful eating teachings – she was able to re-direct herself to a healthy choice for lunch.  I have made similar changes in my mindset and also daily habits and routines, in the interest of radiant health.  Thank you, Karen!  You are doing life-changing work, and it is clear that you pour your heart and soul into what you do."    
"I never imagined I would learn so much and be so inspired. Karen taught us healthy cooking could be easy and flavourful using fresh ingredients that were readily available and reasonably priced. Her passion and insights have opened up a whole new world for me, one in which I can grow indefinitely." 
"I feel so blessed to have met you because you keep me inspired to continue my wellness journey with yummy foods – thanks to your recipes, coaching tips & now online classes"